In two weeks, MLK Library will be hosting it's 3rd annual, Uncensored: The Cocktail Party.
We all remember the very popular Miracle on Seventh Street Christmas pop-up ( yes, that one with the line down the block.) Well, Christmas is coming early for anyone who wants to see designers Kim Burke and Katie Parker back at work. The ladies are big supporters of the library, and have agreed to help make the MLK Library's Great Hall, "as instagrammable as possible."
Linnea Hegarty, the Executive Director of DC Public Library Foundation passionately exclaims, "Banned books week is an opportunity to be irreverent about books and our love of books. For us, with the scavenger hunt and the party, we're trying to show DC a different side of the library. It's not your sort of button down, "shhh you have to be quiet" library anymore."
Want to go for free with a friend? Just find one of the 400 banned books hidden in popular areas of DC and Tweet or Instagram a picture of it with the hashtag #UNCENSOREDDC. Fifteen winners will be chosen and given a chance to attend the event. Get exclusive hints on where to find the titles on their Twitter and Instagram.
How is DC Library Raising the Bar This Year?
Beyond this year's decor, Uncensored will be catered by Mess Hall and will have live screen printing thanks to Soul & Ink. This is the first time that guests will have the opportunity to screen print their own t-shirt or posers with one of four designs.
Finally, they will have have a fab lab curiosity of the library's 3D printer and laser cutters where attendees will get to design their own earrings and cufflinks.
This Year's Theme: Valuing Diversity through Identity and Intuitiveness

Drawing on the artwork of DC artist Adrienne Gaither, this year's theme focuses on diversity.
The featured banned books include The Catcher in the Rye (Anti-White), The Color Purple (Smut), Slaughterhouse Five (Just Plain Filthy), A Separate Peace (Filthy, Trashy Sex Novel) and more.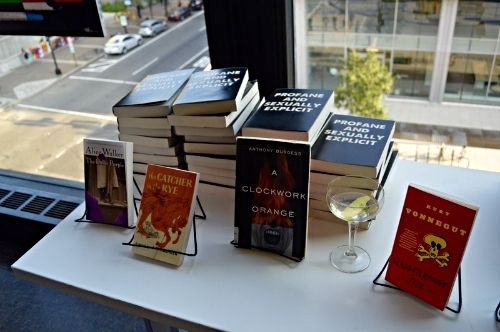 Gaither's collection, And Now The World Knows "re-contextualizes a collection of Banned Books to reflect on society. The importance of Banned Books is that they were seen as tools of revolution, threatening the status quo of society. In turn, banning books was an attempt to silence collective thought." Her works focuses on identity and black imagination, utilizing geometric abstraction, color theory, archival photos and collected objects.
Gaither has exhibited at Strathmore in Bethesda, MD, The National African American Museum and Cultural Museum, and MoCADA (Museum of Contemporary African Disaporan Arts) in Brooklyn, NY.
This spring, MLK Library will close its' doors for construction that could take longer than 3 years. Since it's the last year for the event in the building, Hegarty tells us, "we really want to blow it out and do something special."
Want to find out more about Uncensored? You can check out last year's coverage here.