Last month, The White House Historical Association revealed its 2016 Christmas Ornament which honors President Herbert Hoover.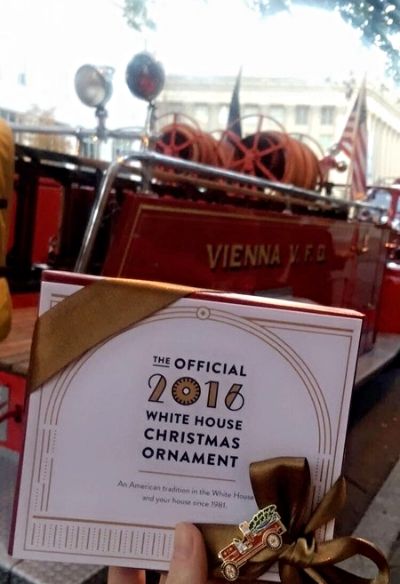 A line of red fire trucks and a matching red carpet greeted attendees at the reveal party. Held at Historic Decatur House on H Street, Local media and attendees took in the historic building and awe striking courtyard while enjoying the event's signature cocktails.
So what does a fire truck have to do with our thirty-first president?
On December 24, 1929, the White House was filled with Christmas cheer when traditional festivities got underway. In the midst of carols, Chief Usher Ike Hoover whispered to the president, "The executive office is on fire!" By about 10:30 p.m., the fire was handled. Fire Chief George Watson reported that excessive heat from a blocked chimney flue or defective electric wiring. Congress later pass a special appropriation to rebuild the uninsured office wing.
On April 14, 1930, the work was completed and Hoover and his aides moved back into the remodeled West Wing.
Who was in charge of remodeling? The Charles H. Tompkins Company, a business of living history, still located today on H street.
All the attendees received this year's ornament, crafted from shiny brass and plated with nickel and 24-karat gold. The design, by art student Kayla Whelan, is based off of the engine that is responsible for delivering the White House Christmas tree.
The White House Historical Association was started by First Lady Jackie Kennedy Onassis. The association is renowned for bringing to light the hidden history of 1600 Penn like the Hoover fire.